What makes a good webinar a great webinar?
Glad you asked! The answer is a lot of small details, but one of the most underrated factors in delivering an exceptional webinar is good audio (and an awesome webinar platform, but we'll save that for another post). Sound quality might not seem like a huge deal when you're first getting started but—trust us—it matters. No matter how good your video quality is, how great a speaker you are, or how interesting your topic is, if it sounds like you're broadcasting from a bunker or your audio keeps cutting out, people are going to leave and your conversions are going to drop.
That's why it's crucial to have a solid microphone. And no, built-in microphones on your computer do not qualify as great equipment, regardless of what the makers say!
Our support team is often asked for recommendations so we've decided to review some of our favorite microphones that produce the ultimate vocal quality for your next video event.
Note: we have included an approximate budget for each piece here; these may change over time and depending on where you purchase them.
Common types of microphones and what makes them great (or not so great)
There are two common types of webinar microphones, USB microphones, and XLR microphones. Which one will be the best fit for you depends on a few factors we'll cover below.
USB Mics
A USB microphone is exactly as it sounds: a microphone you can plug directly into a USB port on your desktop computer or laptop. They're versatile, simple, and generally more affordable (overall) than their counterpart XLR microphones.
Getting started with USB microphones is as simple as plug-and-play. They have all the necessary internal equipment like amplifiers and converters built-in. Most of your audio controls are accessible directly on the microphone, and no additional hardware is needed to use a USB mic which makes them perfect for beginners.
For most webinar recordings, we recommend keeping it simple and going with a USB mic. The sound quality is going to be just fine for audio recordings and you'll be able to get started quickly.
However, if you're recording with more than one mic at a time, or plan to sit at any real distance from your computer, you may need a more advanced solution than a USB microphone.
XLR Mics
XLR microphones do not plug directly into your computer via a USB or firewire cord. Instead, they plug into an audio interface via an XLR cable, and the interface connects to your computer, usually via a USB adapter. Any headphones, keyboards, or additional mics you use will also generally connect to the audio interface as well.
While XLR microphones generally cost less than a USB mic on their own, they require extra hardware that can drive up the overall cost. However, if you are working with a multi-device recording setup for your video event, the advanced capabilities and flexibility of an XLR mic may be worth the cost.
Our 7 Favorite Microphones for Webinars
Blue Yeti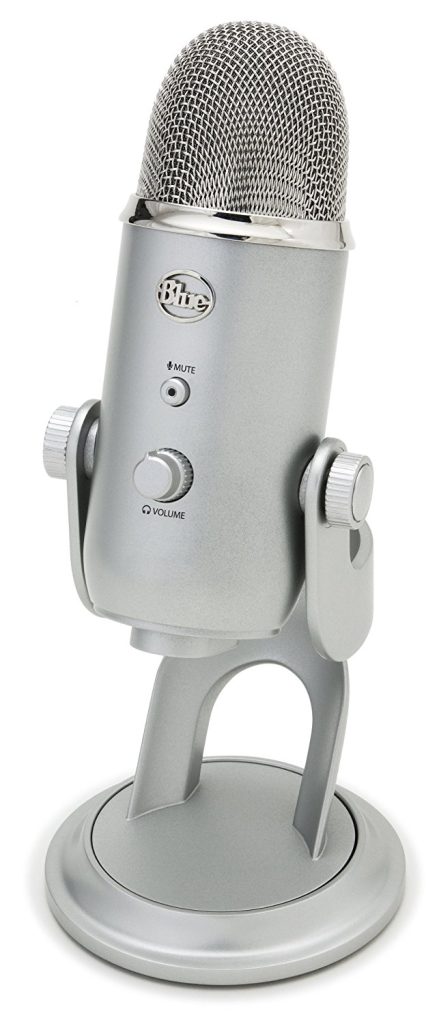 Retro in style, this modern-day microphone is our top pick. The Blue Yeti is a USB condenser mic that is compatible with both Mac and PC. The Blue Yeti gives you a lot of control compared to most microphones. You can choose the pattern selection (how the mic picks up sound) and even adjust the sensitivity while you're speaking. This is handy for those times when you hear feedback. It also has an instant mute button, which is great for when you need to pop a video into your webinar or let an attendee speak.
Reviews of the Yeti microphone report strong sound quality and low background and ambient noise due to the cardioid pattern used by Yeti. If you like to use headphones while recording an automated webinar or while speaking live, just plug your headphones into the built-in headphone jack. For even more audio control, consider adding a pop filter. Get the Blue Yeti Microphone for $103 and make sure to check out the wide selection of Blue Microphones, too.
Blue Snowball iCE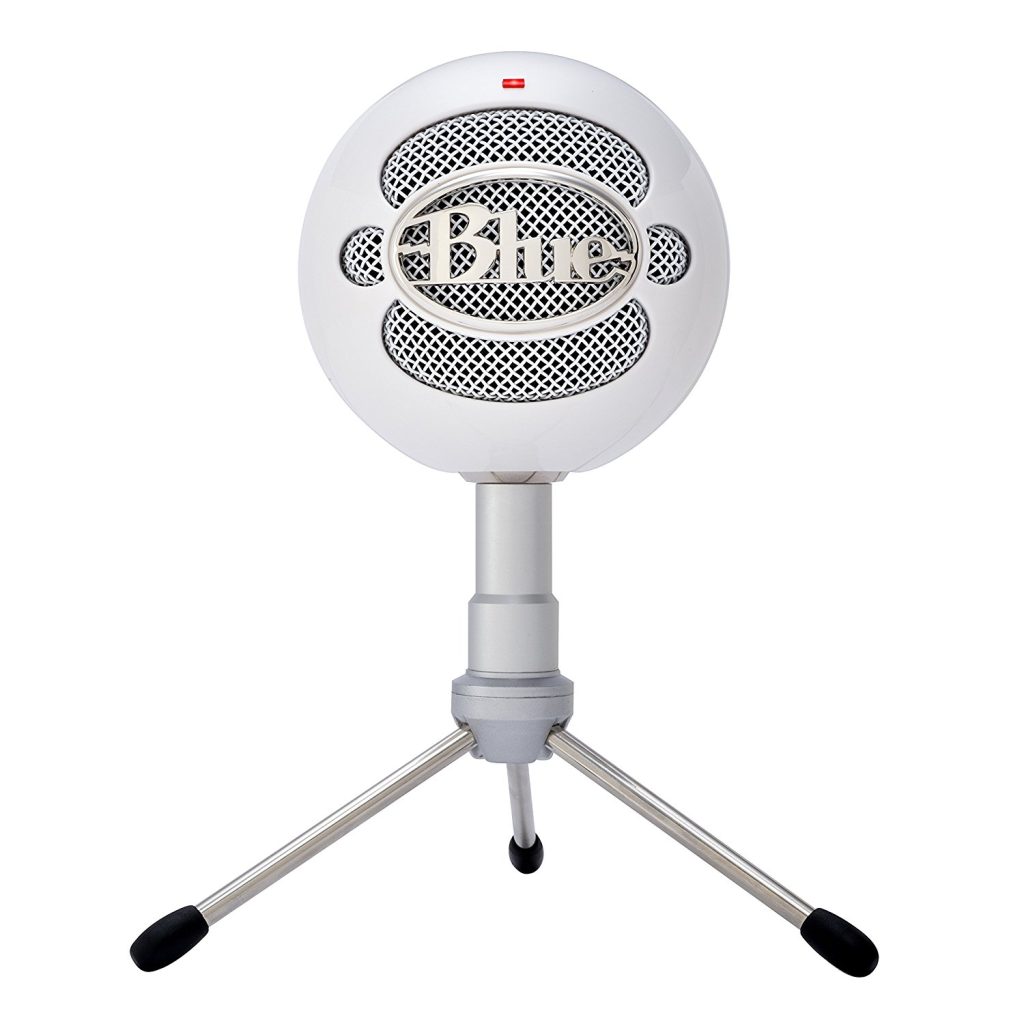 The Snowball iCE is another condenser microphone made by Blu. At only $39.99, it's a more affordable microphone than its cousin the Yeti, however, its low price doesn't mean low audio quality. You still get that crisp, high-quality sound by simply plugging it into your USB port on your Mac or PC. This microphone looks great on camera too (in case you want to bring it into your video shot).
Samson Meteor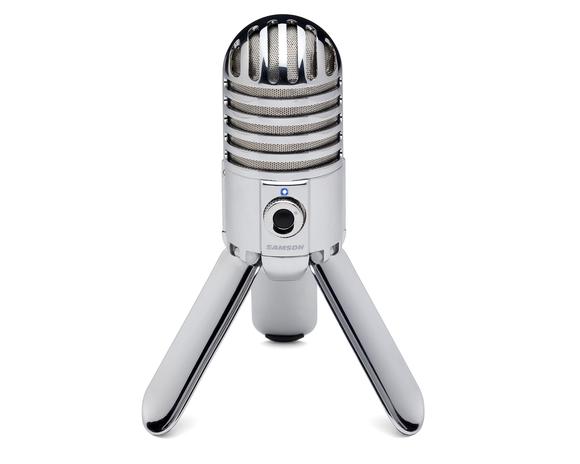 Our next microphone — another condenser — is made by Samson Technologies. The Samson Meteor is a USB studio microphone that is powerful, affordable ($63.50 online), and stylish. The main microphone is a throwback to retro eras, while the base folds up, making it a snap to use on the go. Like the Blue Yeti, the Meteor has a built-in headphone jack and muting capabilities. However, unlike the previous two, the Meteor can plug right into your iPad so you can edit your audio on GarageBand before popping it into your webinar.
Rode NT-USB Microphone

For anyone looking for a studio-quality USB microphone, the Rode NT is a smart choice. Starting at $166.00, it comes with a high-quality mount and tripod stand that gives it a comfortable height for speaking into.
Its superior audio quality makes the Rode NT very sensitive so it can pick up sounds from far away. For this reason, it's recommended to use the microphone in an audio-friendly environment where ambient noises are controlled.
Rode Procaster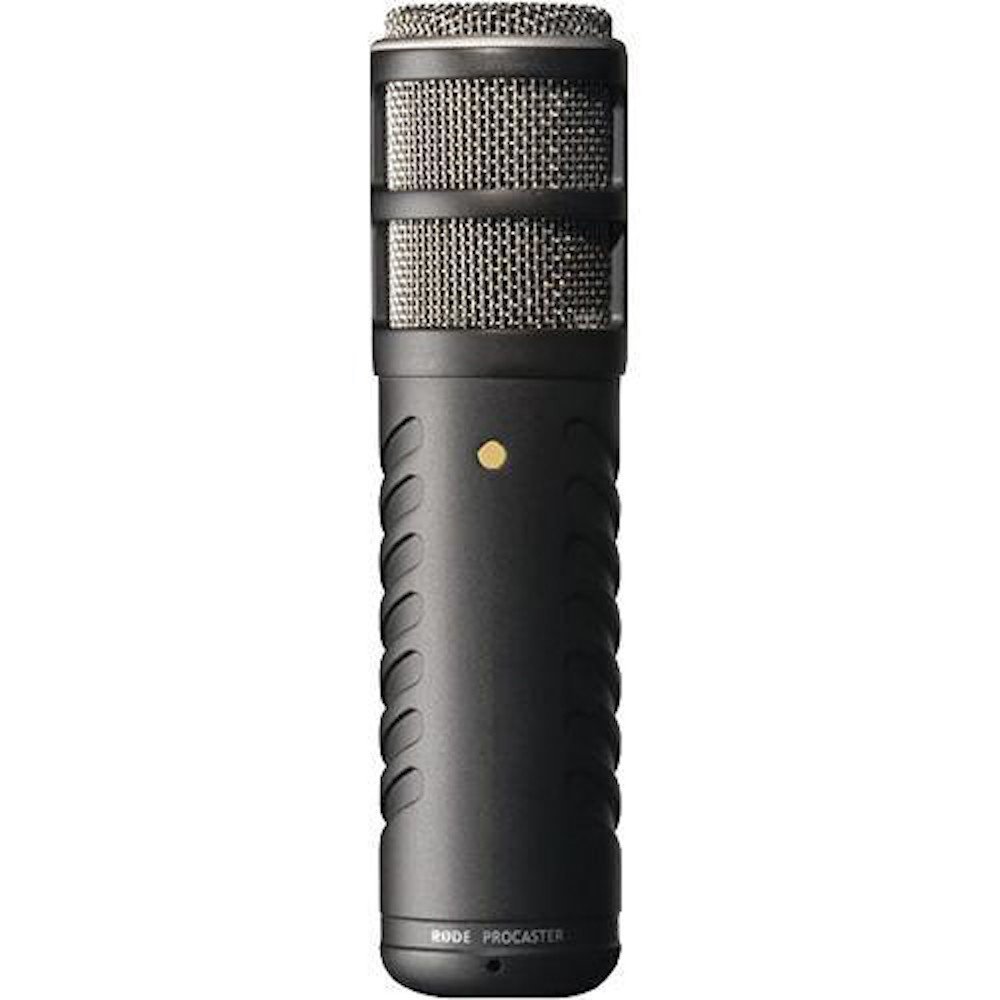 Rode microphones are well known for their quality (and their rather high price tag — this one rings in at $171). Unlike the microphones mentioned earlier on this list, the Procaster is dynamic, meaning you will get a warmer sound and clear audio quality with less background noise. With a 75kHz – 18kHz frequency response, the Procaster is designed for capturing high-quality audio for broadcast radio, podcasts, and voice-overs and is a favorite among webinar hosts.
One thing to note: unlike many of these other mics, you cannot simply plug the Rode Procaster in with a USB. Instead, it requires an XLR cable. If you'd prefer a USB mic, you can get the Rode Podcaster for the same price (although the audio quality is slightly poorer than the Procaster).
Audio-Technica AT2035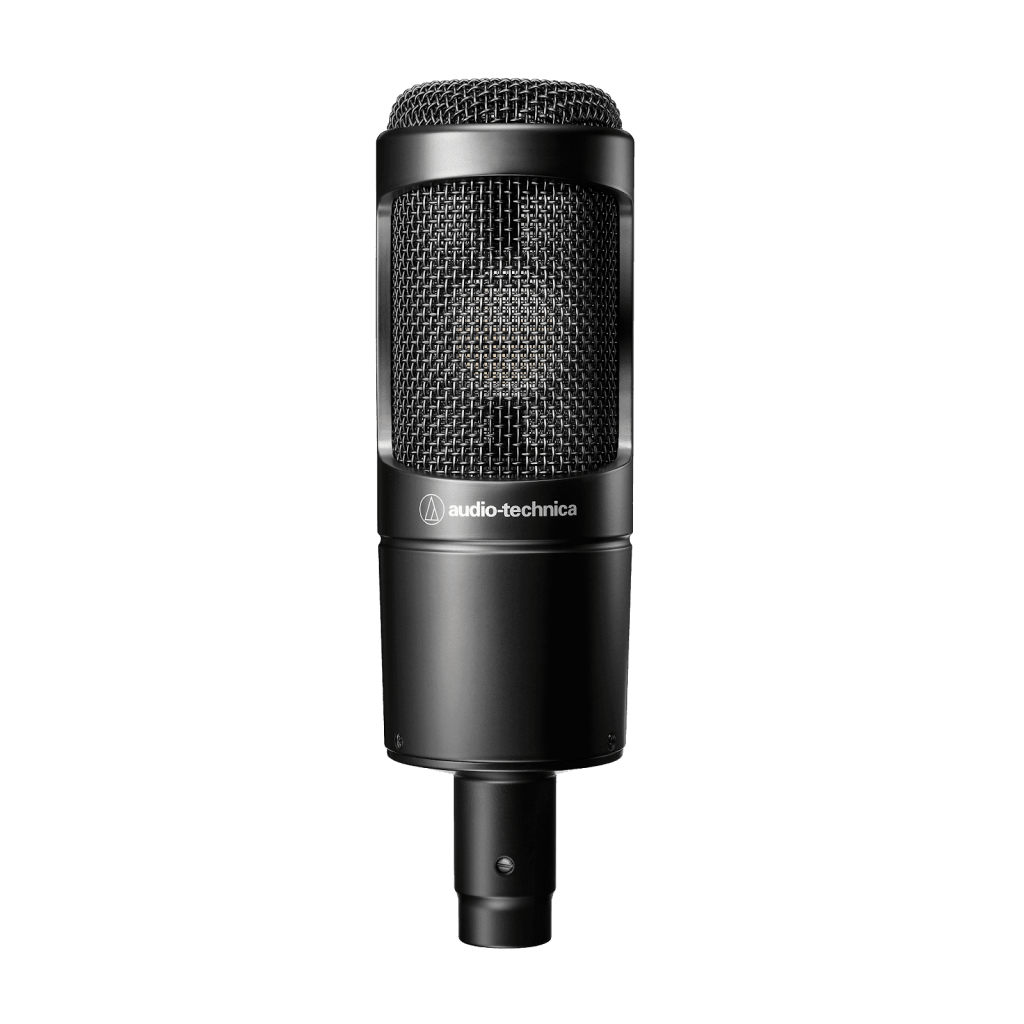 The Audio Technica is an XLR condenser mic that is well-known by broadcasters and streamers for its superior audio quality. Its shock mount and cardioid polar pattern eliminate virtually all background noise and the oversize diaphragm gives it a smooth, natural noise that's perfect for your next webinar.
It starts at $129.00 for just the microphone, but you can customize your order to include a boom arm, headphones, and audio interface. and Pick one up on Amazon today.
Sennheiser Pro Audio Lavalier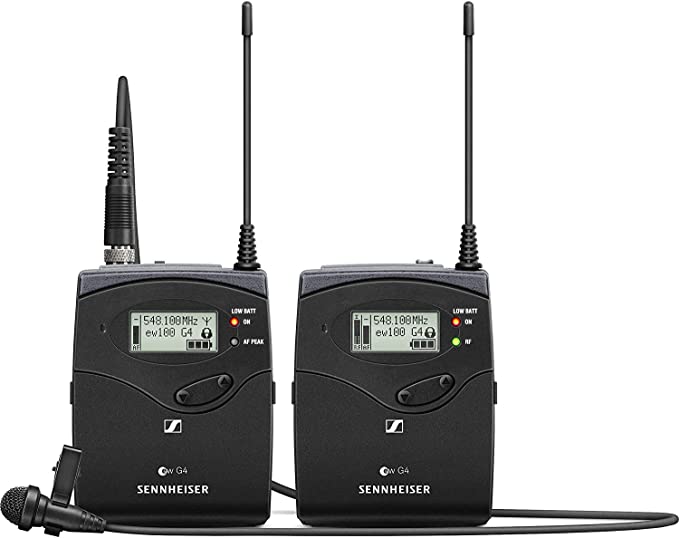 For anyone looking for a mic with USB connectivity that allows for flexibility and movement, a Lavalier mic might be the best choice for you.
Coming in at a whopping $649.00, the Sennheiser Pro Audio is a top-of-the-line lavalier mic that offers broadcast-quality sound with high flexibility. You don't have to worry about running out of battery either as it boasts an impressive 8-hour battery life.
For live webinar recordings, Lavalier mics might not necessarily be a popular choice for their high cost. However, if you really need to be mobile and not be tied down to your seat or restricted by any cables, this professional mic is a great fit.
Shure SM7B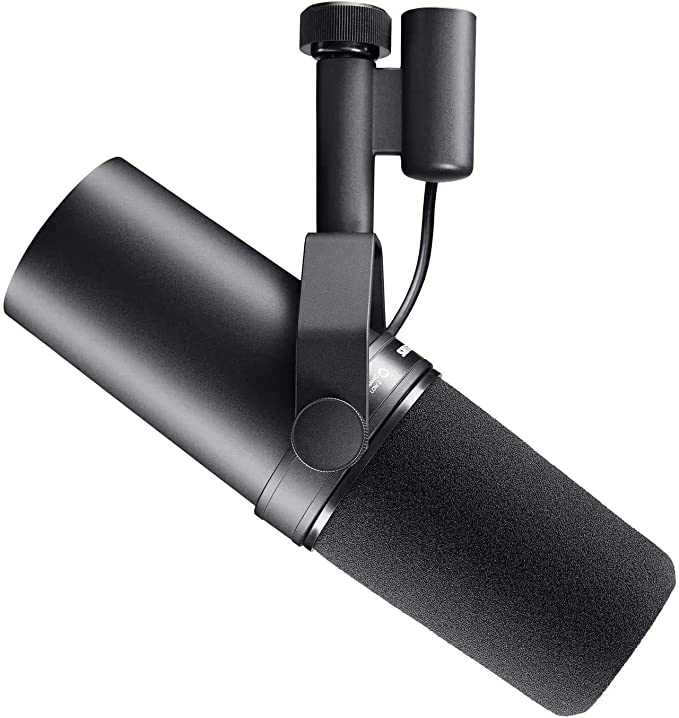 Last, but not least on our list of microphones for webinars and video events is one that was recommended to us by one of our very own customers: the Shure SM7b Condenser Microphone ($399.00 online). While it works on both PC and Mac, the Shure SM7b is a great choice if you have a lot of Apple products as it's Apple MFi (Made for iPhone/iPod/iPad).
The Shure SM7B is a dynamic microphone and does not have a built-in preamp, which means it's not as sensitive as a condenser mic.
Headset Microphones
If your webinars regularly feature other guests you may want to invest in a headset to minimize feedback audio. These work great for events like panels, interviews, video-based podcasts, or webinars where you promote attendees to your virtual stage. While a simple pair of headphones will often work (most of the mics listed above have headphone jacks), some presenters prefer a headset that allows them to both listen and record without the need for an extra device.
Here are our top three favorite headsets to use when running your video event.
Sennheiser SC 60 USB CTRL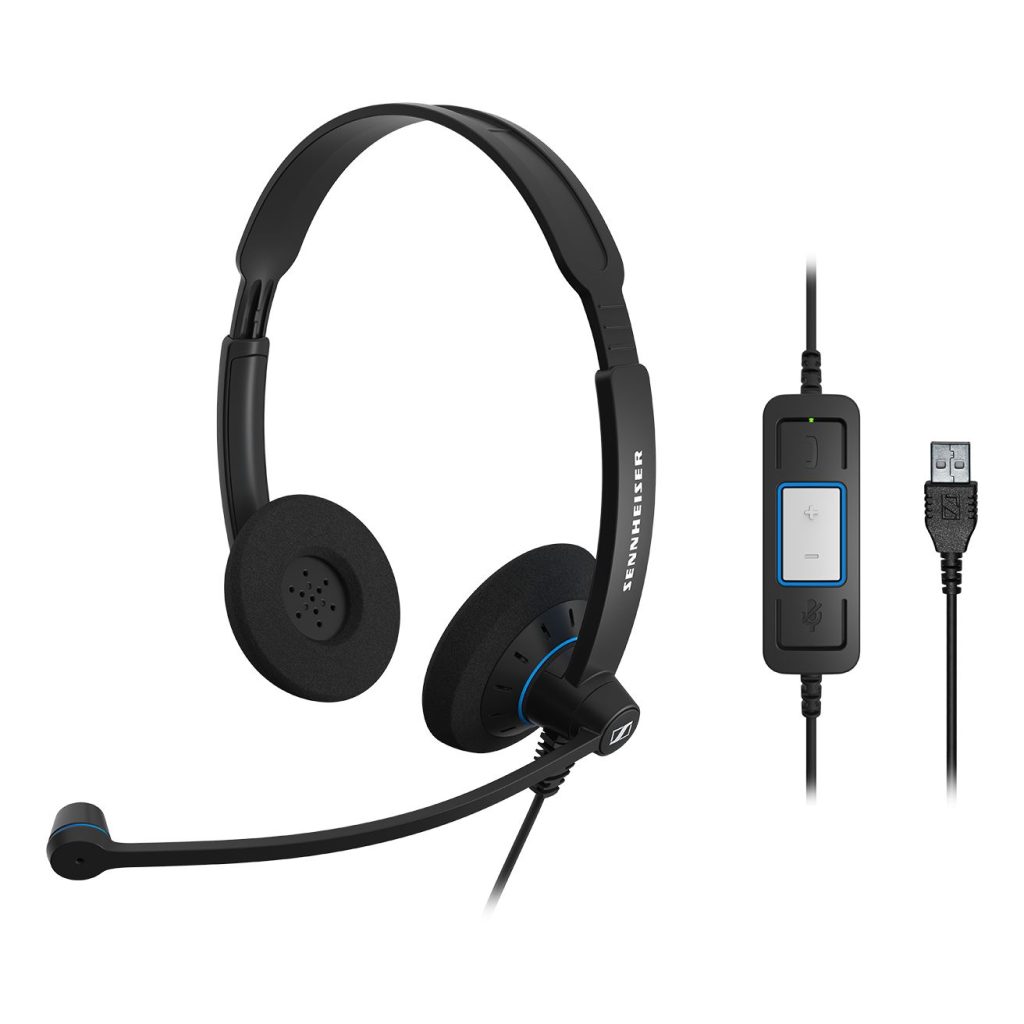 The Sennheiser SC 60 USB CTRL ($49) is a headset that's made for those that want to block out their surroundings. The headset plugs in via USB and has two large earpads that bring sound to both ears. As far as the audio, it uses wideband sound and a noise-canceling microphone to filter out ambient noise so your attendees hear you, and only you.
Mpow V4.1 Bluetooth Headset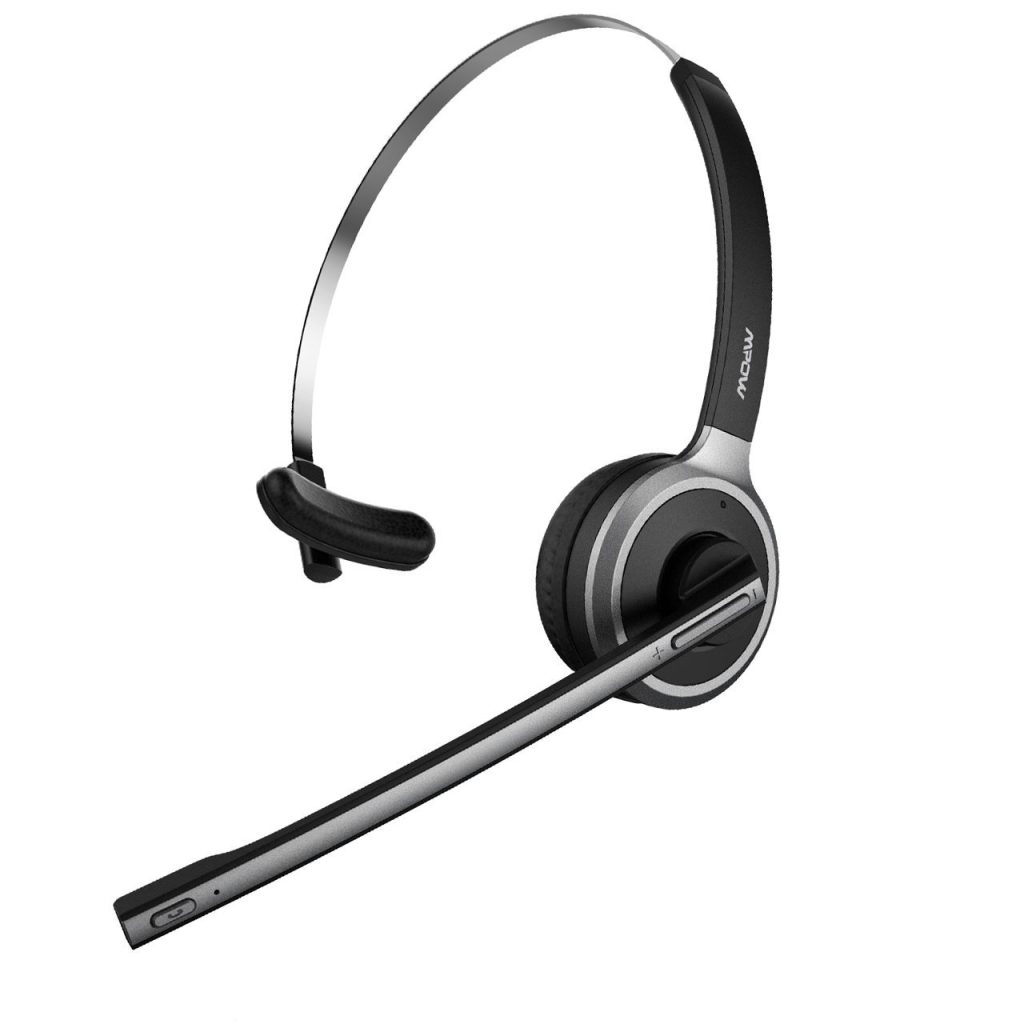 Don't let the low price fool you (only $28.99) – this headset is optimized for your voice to be heard and for you to hear any voices on the other end (if there are any). The Mpow V4.1 has a 4X noise-canceling microphone to block out unwanted noise so you come in crystal-clear to your attendees. Unlike the Sennheiser, this headset only has one earbud so that you can hear your surroundings as well as your audio. It also uses Bluetooth, not USB, to connect to your computer. This is great if you like to move around while you present, but Bluetooth also means you'll need to remember to charge it before you go live.
Logitech H800 Bluetooth Headset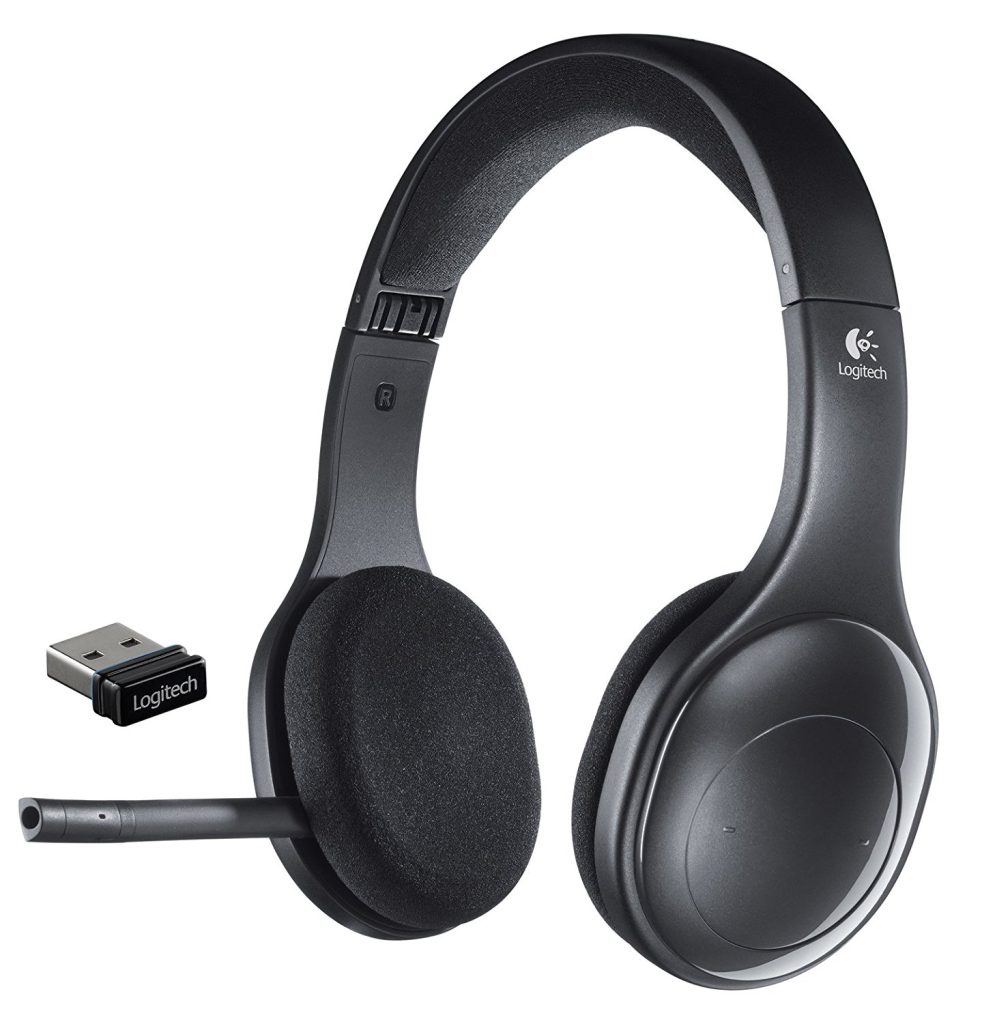 Logitech doesn't just make great webcams; their headsets are pretty fantastic too. The Logitech H800 ($124.99) is a Bluetooth headset that is optimized for PC, tablets, and smartphones (sorry Mac users, this one isn't for you). Like The Sennheiser, the H800 has earpads on both sides, so you're surrounded by sound. It uses a noise-canceling boom microphone so your audio will come out clear to your attendees. If you're a traveler, these fold up nicely, making them easy to pack. And while you can use it wirelessly as a Bluetooth headset, if you forget to charge your headset before you go live, it's no big deal. Simply plug in the USB charger and use it instantly (even if there's not a single iota of power left). Pretty awesome, right?
So, which is the best webinar mic?
At the end of the day, the best mic for you will depend on your budget, and where and how you host your webinars. Whether you prefer a Logitech, a Blue, a Samson, or a Rode, quality equipment is guaranteed to raise your presentation quality a notch (or ten). Sure, the most expensive mic might have a slight edge on the bargain one, but that bargain mic is still worlds better than the built-in mic on your webcam or computer.

Just remember, if you want to use an external microphone or webcam, make sure to set it as the default in your browser or WebinarJam may pick up your built-in video and audio…and you'll have just shelled out your cash for nothing. Safari users will need to use Chrome or Firefox to change cameras or microphones as Safari uses the default camera and microphone. To change your camera or microphone follow these settings. And finally, these mics are useful for more than just webinars; they are great for Zoom/Skype calls, too!