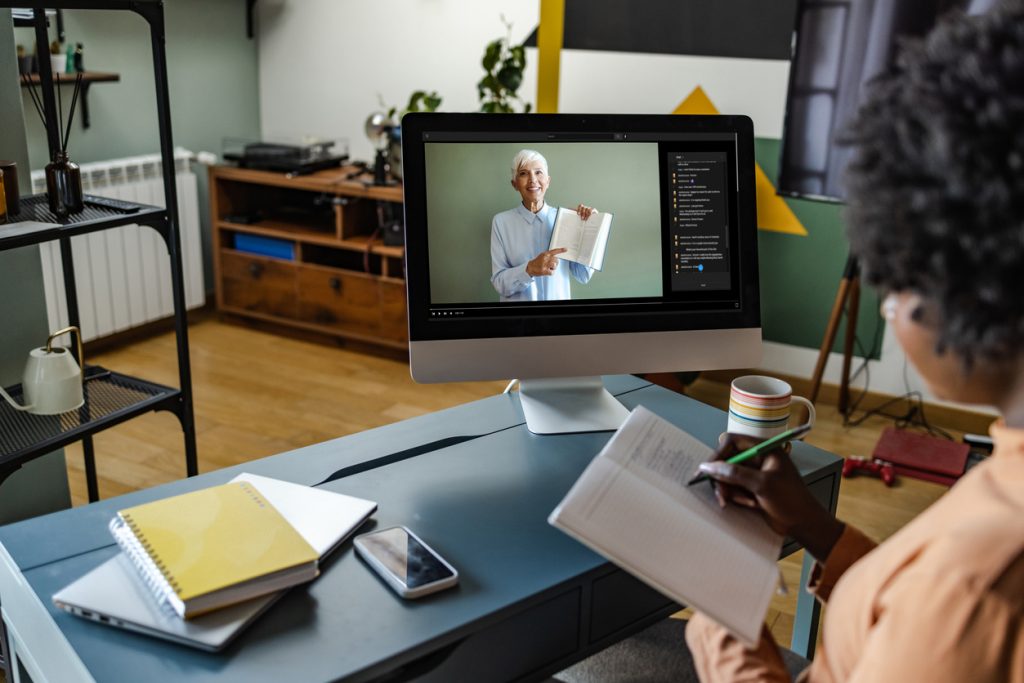 A "webinar" is a mashup of two words, "web" and "seminar," with webinar meaning just that: an online seminar. Impressive, right? They include all the requisite elements of a seminar, just all packaged up in a digital format: a host, a live audience, a presenter (who is often also the host), and a presentation, usually made up of PowerPoint slides and other visual media.
Webinars are powerful tools for sharing information that is visual, interactive, or complex. This could include online courses, employee onboarding, supplemental career training, marketing demonstrations, or showcasing new technological advancements. But that's just the start! Whether you're a seasoned expert with tips for startups, or you've invented the next alarm clock that cooks bacon to wake you up, an online webinar can help you share your message with the world.
Components of a Webinar
So what exactly does a webinar look like? Webinars typically have several base components. These are not hard-and-fast rules—you're free to organize your webinar template in any format that makes sense for your particular topic and will resonate with your unique audience. Start with these four foundational ingredients and then add your own creative flare to wow your audience.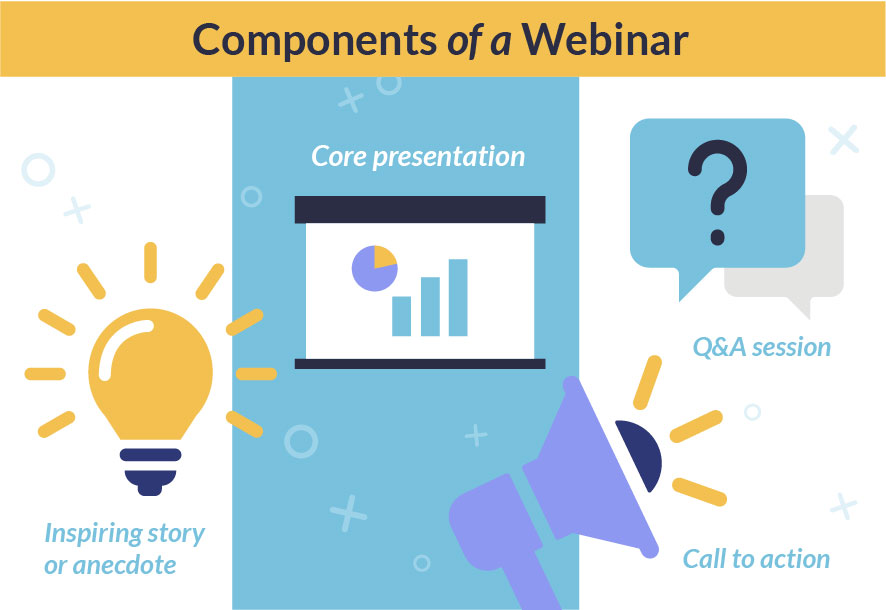 1. An Inspirational Story or Anecdote
A common way to begin a webinar, an inspirational story helps your audience relate to you as the host and gives them a taste for how your webinar content is going to benefit their life and goals. This works to get the audience invested in the webinar and remain engaged throughout the presentation. Bonus: Personal stories have the power to subtly show the audience your authority on the subject sans soap box.
A funny or relatable anecdote can also be used to break the ice and prime the crowd for engagement throughout the presentation. Just don't dwell too long on what happened to Aunt Susie's neighbor's cat — keep it brief. Remember, what they're really here for is your core presentation.
2. The Core Presentation
The core presentation is the longest component of your webinar and the reason your audience chose to sign up in the first place. Presentations frequently use presentation slides, webcam video of the presenter talking to the audience, and screen sharing to demonstrate things to the audience, such as how to use software functionality.
Depending on the webinar platform you use, there are many other features you can put into play to boost the quality of your webinar like on-screen whiteboards, polls and surveys, quizzes, handouts, and more. 
3. The Q&A Session
Following the presentation, the presenter, host, or Thought Leader Extraordinaire will typically open up the floor for Q&A. Don't leave this portion out if you can find a way to fit it in! 92% of webinar attendees say they benefit from a Q&A session at the end of a webinar.(1)
Q&As not only help your attendees grasp your content better, they also provide you with valuable insights into your audience's pain points and interests that you can utilize in subsequent webinars.
There are a few ways to get questions from your audience:
A chat function is a standard webinar tool on most webinar platforms. A chat moderator collects questions from the audience during the presentation, or the webinar presenter chooses questions from the chat after the presentation.

Another way to do your Q&A is to enable video conferencing so the webinar attendees can see and hear each other ask questions. This method works best for smaller-scale webinars, however with the right webinar software, it can also work for larger types of webinars.  
4. The Call to Action
At the end of the Q&A session, you'll want to close out with a final strong call to action. What is your intended outcome of the webinar—do you want them to schedule a consultation? Sign up for the next course? Get on the pre-sale list for your product release? This is your last chance to leave a great impression and have your attendees walk away wanting more.
Be sure you have an adequate CRM in place to organize all of those new leads you're going to capture after hosting your own webinar! 
Common Types of Webinars
Education/eLearning Webinars
The most popular type of webinar is an educational webinar.(2) These digital programs and seminars have a wide end-user base covering K-12, higher education, corporate upskilling, government, and more.
Online education (or eLearning) has been a popular option for students unable to conveniently attend in-person education courses for years. But it reached unprecedented heights during the COVID-19 pandemic shutdowns and the market is predicted to continue growing 8% each year, reaching $315 billion by 2025.(3)
In addition to accessibility, the widespread adoption of cloud-based computing and the gamification of learning are major factors driving the growth of the eLearning market. 
In the past, access to eLearning often required users to download large software packages and labor through hours of one-sided content. Today, on-demand webinar platforms offer a wide range of interactive features like quizzes, polls, handouts, video communication, and live chat that enhance learning through engagement. All you need is a computer or smartphone with an internet connection!
Employee Training Webinars
One specific type of eLearning where webinar use is booming is employee training. The main difference in employee training webinars compared to other types of online education is that they are usually only accessible to current employees and a company's affiliated parties rather than the general public or a subsection of the masses.
Webinar platforms drastically cut the cost and complications of training geographically-dispersed employees, whether regionally, cross-country, or globally. You don't need to send everyone to Chicago, Montreal, NYC, London, or Timbuktu — everyone that needs to attend the training session can do so in real-time from wherever they're located, provided they have a steady internet connection to view the webcast.
Employee training webinars also increase onboarding productivity because new team members can go back and watch recordings any time they need a refresher.
Large-Scale Video Conferencing
Thanks to the growth in remote working, online meetings and video conferences are in ever-growing demand. The 2019 pandemic saw the massive rise of platforms like Zoom and Microsoft Teams. However, when it comes to large-scale events with hundreds of attendees, you need more than group video calling.
The robust interactive features of webinars take video conferencing to the next level, with better engagement, retention, and conversion. Top-rated webinar software platforms like WebinarJam offer higher-quality video streaming and less lag time, making them a common choice for large-scale video conferencing.
Software and Technology Demos
Nothing sells software like seeing it in action. For SaaS companies, a webinar is a powerful marketing tool that gives users an in-depth presentation of the software, whether live or pre-recorded for times where a salesperson isn't available to demo the product.
On-demand webinars are also commonly used to create user libraries of software documentation for customers. These training videos make user support more efficient and scalable.   
Sales Presentations and Webinar Marketing Events
Generating leads and selling a product or service is one of the top reasons for companies to host webinars and is considered by 89% of marketers to outperform other marketing channels for generating quality leads.(4)
Whether a business is showcasing a key product or offering valuable industry expertise,  webinars as content marketing tools are an excellent strategy for connecting with potential customers. Think about it… a full hour of your perfect customer's attention tuned directly into you? Yes, please!
You deliver valuable information that helps your customers solve a problem; they get to know your brand and see your expertise firsthand. It's a win-win.
Here are seven more ways webinars are a win for your business.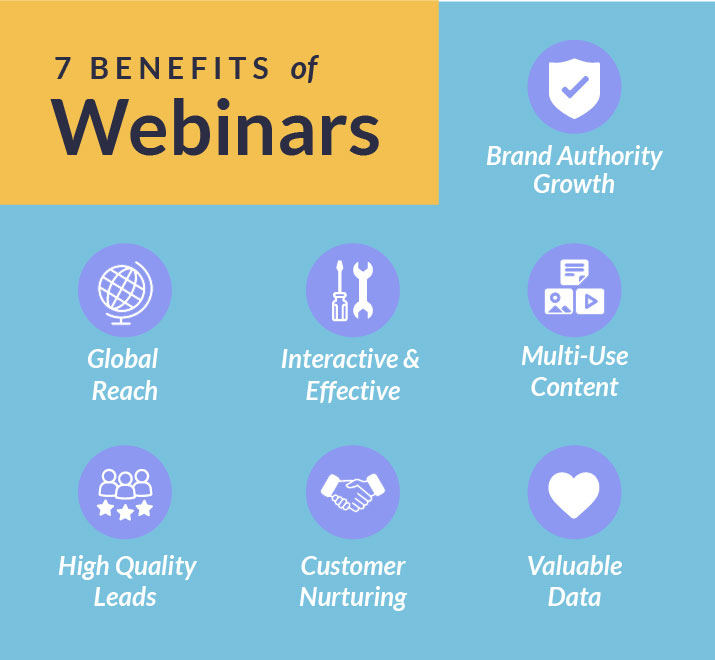 Top 7 Benefits of Webinars
1. Webinars Help Establish and Grow Your Brand Authority
Interacting with your audience via live events like webinars makes your brand more personable, human, and likely to resonate with potential customers. Through webinars, your company can share its knowledge with your audience, proving yourselves as experts and leaders in your industry.
2. You Can Reach A Much Wider Audience Than In-Person Events
According to a global study done in 2021, webinar use increased by 162%, with webinar registration and attendance up almost 300% from 2019.(5) While there will always be a place for in-person events, the popularity of virtual events isn't going anywhere. Webinars have the power to reach a worldwide audience — anyone with an internet connection can potentially be one of your attendees, regardless of where they're located. No one has to spend a small fortune traveling for a one hour presentation. All that's needed to join your live video session is an internet connection.
Hosting through webinar platforms allows you to register almost unlimited attendees, with high-resolution, responsive, non-lagging video available through the cloud. 
(Psstt… here's a secret bonus tip: Statistics show that 11 AM EST on a Thursday is the best time for hosting a virtual webinar event. If you're marketing your webinar via social media, website landing pages, and other channels to people in different time zones, make sure your scheduled start time is geared toward the most people who will be interested in attending.)
3. Versatile Tools and Software Increase the Efficacy of Webinars
Webinar software platforms like WebinarJam have more robust webinar features than standard simplistic video-conferencing. You can screen share, work on a virtual whiteboard, show layered videos, use concurrent interactive elements like polls and chats, and more. The more you engage your audience, the more likely you are to hold their attention and encourage information retention.
4. A Great Webinar Can Be Repurposed Into Other Content Like Blogs, Videos, Email Marketing, and More
One of the best things about hosting a webinar is how the recorded content of the presentation can be repurposed into other forms of digital content marketing. The content of the presentation can be split into assets for follow-up content marketing that dives into each aspect of the presentation in more depth.
Your full webinar itself can even be re-used for ongoing marketing through on-demand viewing. In fact, many people prefer viewing a presentation at their leisure, rather having to be present and ready at a specific time when a live webinar is scheduled. In 2021, 57% of webinars went straight to on-demand viewing, and 43% of all webinar attendees only watched on-demand, while live-only attendance decreased.(6)
5. Effective Webinars Generate High Quality Leads
If you work in marketing or sales, you already know that generating high-quality leads takes a lot of time and effort. It's just a fact that the majority of consumers or businesses you bring into your marketing funnel will never make it all the way through and become paying customers. That's what makes lead generation is a numbers game, and tools that fill your pipeline so valuable.
The average webinar attendee conversion rate for a business-to-consumer presentation is a staggering 20% to 40%. That's at least 7x the rate of social media advertising! It's no wonder that 99% of marketers are including webinars as a key part their marketing strategies.(7)
6. Webinars Build and Nurture Relationships with Customers
One of the reasons webinars are so effective at sales conversion, is that they nurture relationships with loyal customers and potential customers. The more a person invests in a business—whether time or resources—the more loyalty they build, and the more likely they are to return (as long the experience is good, at least!). It's easier to sell to a customer who already knows the quality of your product or service than it is to gain a new customer—they're also more likely to tell someone else about your business. This makes the  long term ROI on new interaction opportunities with loyal customers immeasurable.
7. Webinars Help You Learn What Your Audience Wants
We talked earlier about the importance of including a Q&A session at the end of your webinar presentation. The questions your audience asks will help to guide your next webinar along with business operations as a whole. Hearing first hand what your audience wants and seeks to know more about is invaluable. Businesses spend billions of dollars a year on focus groups (no, seriously—$2.2 billion!) to get direct customer feedback, and that kind of data is just sitting at your fingertips with a great webinar.

REFERENCES:

(1)
Attendees say they benefit from a session at the end of a webinar – Blogging Wizard

(2)
61% of companies use webinars as a content marketing tactic – Blogging Wizard

(3)
E-Learning Market to Grow at 8% CAGR to hit $315 Billion by 2025 – GlobeNewsire

(4, 5, 6)
Global Report Shows Use of Webinars Triples Driving Digital First-Engagement Across Industries – Business Wire

(7)
Global Report Shows Use of Webinars Triples Driving Digital First-Engagement Across Industries –
99% agree that webinars represent a critical element of their marketing plan – Business Wire